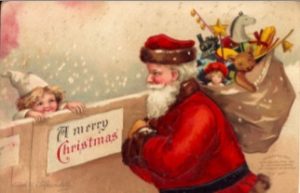 Merry Christmas!
I hope you enjoy the images of Christmases long ago scattered within this post. If you keep reading, you'll learn more about them!
Part I
A friend of mine recently asked me what traditions my family followed for Christmas. I was hard pressed to come up with anything terribly specific or interesting. We don't consistently eat anything special on Christmas Eve, and since my parents, and then my wife and I, have all been church musicians, most Christmas Eves (and sometimes Christmas Day itself) have been working holidays. I guess I can safely say that music more than anything else connects me to a sense of Christmases past.
I'm not especially troubled that highly complex or richly textured "traditions" have not accumulated around my personal celebration or experience of Christmas. Many of the "traditions" embedded in the general nostalgic patina of this holiday—and enshrined on keep-sake chinaware and holiday cards (which—guilty!—I also like to send) were relatively new, even in the early twentieth century, given the millennia that Christians have been observing this holiday.
Nevertheless, I would say that as a child, my favorite parts of Christmas were setting up the nativity sets in our house and listening to an old LP my father had of a dramatic reading of Dickens's A Christmas Carol. That story remains an important part of my personal sense of tradition around the Christmas holiday, as does the carol, "God Rest Ye Merry, Gentlemen," which I first heard on that LP. And I loved traveling to Fulton, New York, on Christmas to spend the day with my cousins, or having them come to Syracuse to visit us. Those Christmases with my cousins are important memories, if not exactly "traditions." And it meant a lot to me recently when my daughter Madison asked me if this year she was going to hear me practice a piano rondo that I composed on Christmas carols. That piece of mine has apparently become part of her sense of the holiday, even though I only composed it five years ago. Well, I suppose traditions have to start somewhere!
Part II
I have always been fascinated by my family history, as my father was before me. A few weeks ago, I dug into a box of old family cards and letters that my father had saved from my Grandmother Pelkey's estate. Lyma May (Strong) Pelkey would have been 111 years old this Christmas! Imagine my surprise to find one-hundred-year-old postcards that Lyma had carefully preserved in that box! I also discovered that my grandma was named "Lima" at birth, and not "Lyma"!
(This is the earliest dated postcard in the collection: 1908 according to the postal cancellation stamp.)
As a historian, I was fascinated by the postcards not just because of their age and because they physically linked me to a long-gone age (several cards pre-date the beginning of World War I), but also because they showed me that even in the 1910s, there was a nostalgic quality to the Christmas iconography that my own Grandmother Pelkey (that is, Lima Strong) experienced as a little girl in Willsboro, New York.
(Postcards from 1912 and 1915 according to dates on their backs.)
And it may be that this is the strongest "tradition" that links together most fully all of us citizens of Christmases past and Christmas present: we are all bathed in the warm light of nostalgia. No matter how far back we push, we never reach the "golden age" of Christmas "long, long ago".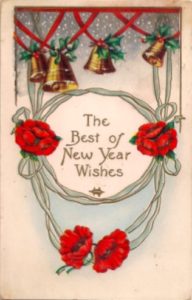 (A postcard from 1914 — the first Christmas of World War I.)
Part III
But you know what: That's perfectly OK! There's nothing inherently wrong with nostalgia, at least in small doses now and then. But what I need to keep reminding myself is that "peace on earth, goodwill to all human kind" will not be found someday, "long, long ago." The path to peace and goodwill is before us, and it is paved by the large and small decisions that each of us will have to make in 2017, 2018, 2019….
I really do want to live the promise of Christmas, the promise made possible by Emmanuel. So I am readying myself for a new commitment to gift giving—but not just gifts wrapped up in paper and tied with bows. I mean daily gifts of love, joy, peace, patience, each offered to those around me and to myself when I (inevitably) will fail.
Will you join me?
Will you help to hold me accountable?
There have been too many "bah, humbug" moments on the path behind me—perhaps you feel the same way? I really don't want to go back, nor turn back.
I'm ready for a lot more "God bless us, every one!" going forward.
Come on! Let's go! Let's make it happen!
(And if you need a soundtrack to help launch your journey, come back on December 24 for my Christmas Eve music podcast!)
Stan
December 23, 2016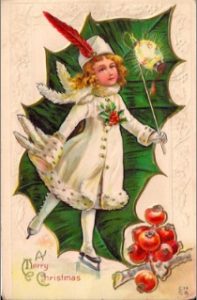 (An undated postcard from the same collection of a little girl ice skating; the image already seems dream-like, nostalgic.)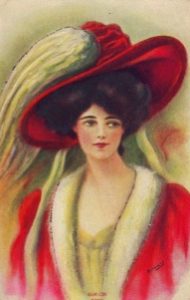 This is not a Christmas postcard, but it was among the postcards my Grandmother saved from her childhood. Grandma Pelkey was a snazzy dresser — that's one of the things I remember most clearly about her. I can only imagine the impression an image like this may have made on her when she was about ten–after all, she saved two such cards, and they are the only duplicates in her collection.     SCP