November 8, 2015
The apple doesn't fall far from the tree. I've been increasingly aware of the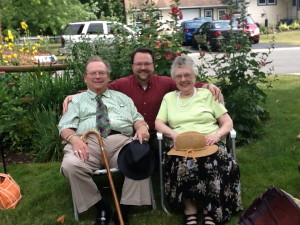 truth of that old saw as I have pushed into middle age. Every time I get a hair cut, I swear my father is looking back at me in the mirror! That's not a bad thing in and of itself. I have had a very positive relationship with my father, especially during my adult years, and this is something for which I am deeply grateful as more and more of Dad has been lost in recent years to dementia. It's just that I do not like being reminded that I am middle aged, nor that my life-long tug-of-war with weight gain has become decidedly more challenging in the past five years!
But let's face it: sons often want to create points of distinction from their fathers. I've certainly felt that way over the years, despite my good relationship with Dad. At the same time, that did not stop me as a teen from practicing how I answered the phone so that I sounded exactly like Dad! Nor did it stop me from developing a legible but fairly distinctive handwriting style inspired by Dad's penmanship. Nor has it stopped me in more recent years from taking a page from Dad's playbook as I try to dress professionally for work. I've even appropriated a few of his ties ('though not all of them – our tastes are similar but not the same!) and old watches, which I occasionally wear for good luck, or to keep him close to me. And of course, at the very root of my professional life, I became a musician, and an organist to boot, in large part because being a musician ran in the family!
(Photo above: Lyman Pelkey playing the pipe organ at First Presbyterian Church in Syracuse, New York, January 1994. Photo on right: Stan playing the in Scone Palace in Scotland, Summer 1997.)
Still I was surprised recently when I watched a video of myself playing the organ and realized that even some of my performance mannerisms reflect those of Dad. HA! And I had thought I had avoided developing those! And then there was recently a photo of me talking to a guest at the Florida State University, and it could have been Dad in that photo. The apple… well you get the point.
So in the spirit of gratefulness to Dad (and quiet resignation that genetics, environment, and probably unconscious mimicry are winning out over overconfident free will each time I perform and in many of my daily quirks), I wanted to share a bit about my father's musical background and that of his father, too, as a tribute to the power of family in the construction of our musical selves. (I could also write about my mother's influence on my musical life: I have spent years trying to emulate her gospel piano playing! But that will have to wait for another blog post!)
My father had a habit of recording family history and self-reflections in his books and musical scores. I have inherited many of these items, and I have drawn on their notes for the following summary.
In July 2003, my father wrote across the cover of a signed copy of a violin method book by Claude Case (Carl Fischer, 1910) that it had belonged to his father, Stanley C. Pelkey I (April 14, 1901—January 1, 1976). Grandpa grew up in a tiny farming community (Jay, New York) in the Adirondack Park. In those days, many rural youth of my grandparents' generation did not attend high school. As my father notes, Grandpa's parents were urged to send him to high school by his grammar teacher, but that would have required rooming and boarding some distance away in Au Sable Forks, New York. This proved impossible. My father—who also spent his early childhood in the Adirondacks—remembers that before World War II, the "extremely hilly and narrow" roads in the mountains were often impassible throughout the winter and sometimes even into May. Although he did not finish high school, Grandpa Pelkey was foresighted enough to move his own family (ca. 1949) out of the mountains and to Massena, New York, where there were more job opportunities. He was also naturally gifted as a salesman, and ultimately he and my grandmother were able to send their three children to college.
(Photo above: my grandfather, Stanley Pelkey, and one of my great uncles, Philip Strong. Photo on right: my paternal grandparents, Stanley and Lyma Pelkey.)
Grandpa played fiddle in his youth. It must have been important to him because even after he stopped actively playing, he kept his old violins. My parents owned them afterwards for a number of years. I never heard my grandfather make music, and he died when I was 3 years old, so I only have one or two memories of him. But there was always a piano in my grandparents' house in Massena (it is now in my mother's apartment), and they had an old pump organ in their summer camp along the St. Lawrence River. Grandpa's fiddling laid a foundation upon which three generations of musical lives were built and continue to be built. (I count my own children's musical lives among these three generations.)
I am now in possession of a small music manuscript book in which Dad wrote down an arrangement of Elgar's Pomp and Circumstance March No. 1 that he prepared for organ for his use at the Congregational Church in Massena. In that little manuscript book, Dad recorded much of his own musical history. He spent his first years of life in Burke, New York, and he began taking piano lessons (as he recalled) in 1945 with Mrs. Sadie Mason, the organist at the Burke Methodist Church. After the family moved to Massena, Dad studied piano with Mrs. Ivah Church from 1949-1955. He must have made reasonably good progress, because he started playing the organ for the Methodist Church in Massena in February 1953 and continued to do so until he graduated from high school in 1955. He then went to Syracuse University to continue his musical training, but he returned home each summer to serve as organist at the Congregational Church in Massena until 1959.
During his first year at Syracuse University (1955–1956), Dad was an organ student of David N. Johnson, a piano student of Ada Shinaman Crouse, and a tenor in the Chapel Choir of Arthur Poister. Dad's freshman theory professor, Franklin Morris, had been a pupil of famed composer Paul Hindemith (one of my personal favorites), while Poister had been a pupil of Marcel Dupré in Paris. Dad later transferred out of music and became an English major and spent his career as an English teacher in the Syracuse City Schools. He second-guessed the decision to change his major for most of his adult life. But Dad continued to be active as a parish organist into his 70s, and he even took organ lessons again for a time after he retired and before he went back to school for another master's degree, his M.Div. from the Colgate Rochester Divinity School (1994–2000).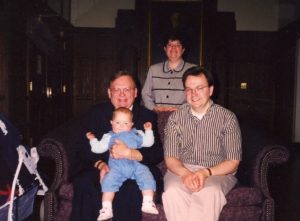 (Photo: Three generations of Pelkey men: Lyman, Stanley, and Nate, with Heidi Pelkey, at Colgate Rochester Divinity School, where my father completed his M.Div. during the 1990s.)
My parents met while they were both teachers in Syracuse, and after marrying, they remained in the City. I grew up—musically and otherwise—in the shadow of Syracuse University. Although Dad spent his career as an English teacher, he continued to nurture his musical interests, as well as my sister's and mine, in part through the musical opportunities made available to the community by the University. I have very fond memories of attending organ concerts by Will Headlee and ever-popular piano recitals by Frederick Marvin at Syracuse University with Dad and my sister while I was in high school. Another especially powerful memory for me is playing in a master class with famed Eastman School of Music organ professor Russell Saunders during a regional conference of the American Guild of Organists held on Syracuse University's campus. Dad was there with me.
Music and music making were just natural activities in my home while I was growing up. I was playing piano and teaching myself to read music before I was 5. We lived and breathed music. I am grateful for the many times in my life that I was able to talk about music with my father and for the times we were able to play for each other after I began my own journey as an organist. Indeed, I wish I could have more of those conversations with him now. But I am also very grateful for the musical conversations I can now have with my own daughter and son.
I would love to hear some of your stories about how you and your parents or you and your children have shared music together in your personal and/or professional lives. Please feel free to comment.